T NAGADI Group of Factories Presided by Shaikh Tarik Mohamed Nagadi, is expanding its activities by increasing the production capacity with modern machineries to cater the expanding demand of Quality Concrete Products within the Kingdom of Saudi Arabia and GCC Countries. Recent major expansion is going on at Al Kharj T. Nagadi Industrial Complex, located at Al Rifaya Industrial Area, spread in area of 160,000 Square Meters.  This complex is not only for Concrete Products, but also for HDPE and TEXTILE Factories, taking into consideration of Kingdom's vision 2030 where the country shall be depending by locally manufactured products.  In addition, a factory is established in the Tabuk Region, by considering the local demand of concrete products and in order to support the contractors for getting products economically around the region at a lesser price.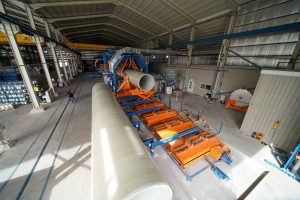 Our expansion plan is looking at the future expansion expected in the Kingdom considering the economic development plan of the country and the vision 2030.  We had been successful during the past years, providing quality products in the Kingdom of Saudi Arabia, and we could gain recognition from many government organizations and approval for supplying concrete products for their projects.
We have most modern production units in Saudi Arabia covering a total area of 500,000 square meters, including a 40,000 sq m plant in Riyadh – which is under process of relocating to our industrial complex with an area of 160,000 square meter at Al Kharj Refaya Industrial Area, 200,000 square meter plant in Yanbu and 45,000 square meters at Tabuk.
At present we have Automated Production plants for Lined & Non-Lined Reinforced Concrete Pipes, (for Micro Tunneling and open trench), Box Culverts of different sizes.  In addition, we have all type of Sewer and Storm Drainage Manholes,
 Telecommunication & Electrical Manholes & Handholes and many other precast products produced as per the requirements of the Customers.  One of our main products for the precast is the Concrete Fence Wall.  All our products are produced in compliance to the Saudi & International Standards.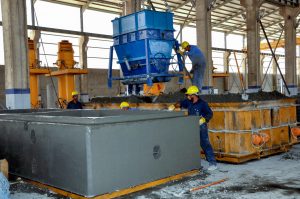 Locations of our various plants provide us a chance to economically cover the geographical area within the Kingdom of Saudi Arabia.  From
our Riyadh / Al Kharj Plant, we are covering the requirements of the central & Eastern Region and from Yanbu we are covering the western region and the newly constructed plant of Tabuk shall cover northern area of Saudi Arabia.
We are prepared to expand further depending upon the industry demand by adding more machineries as required.
We are an ISO Certified Factory since 2002 and maintaining the quality of our products and also the certifications is renewed and updated with the developments taken place periodically.  In addition, we are a member of Prestigious Pipe Jacking Association London, United Kingdom.